DESCRIPTION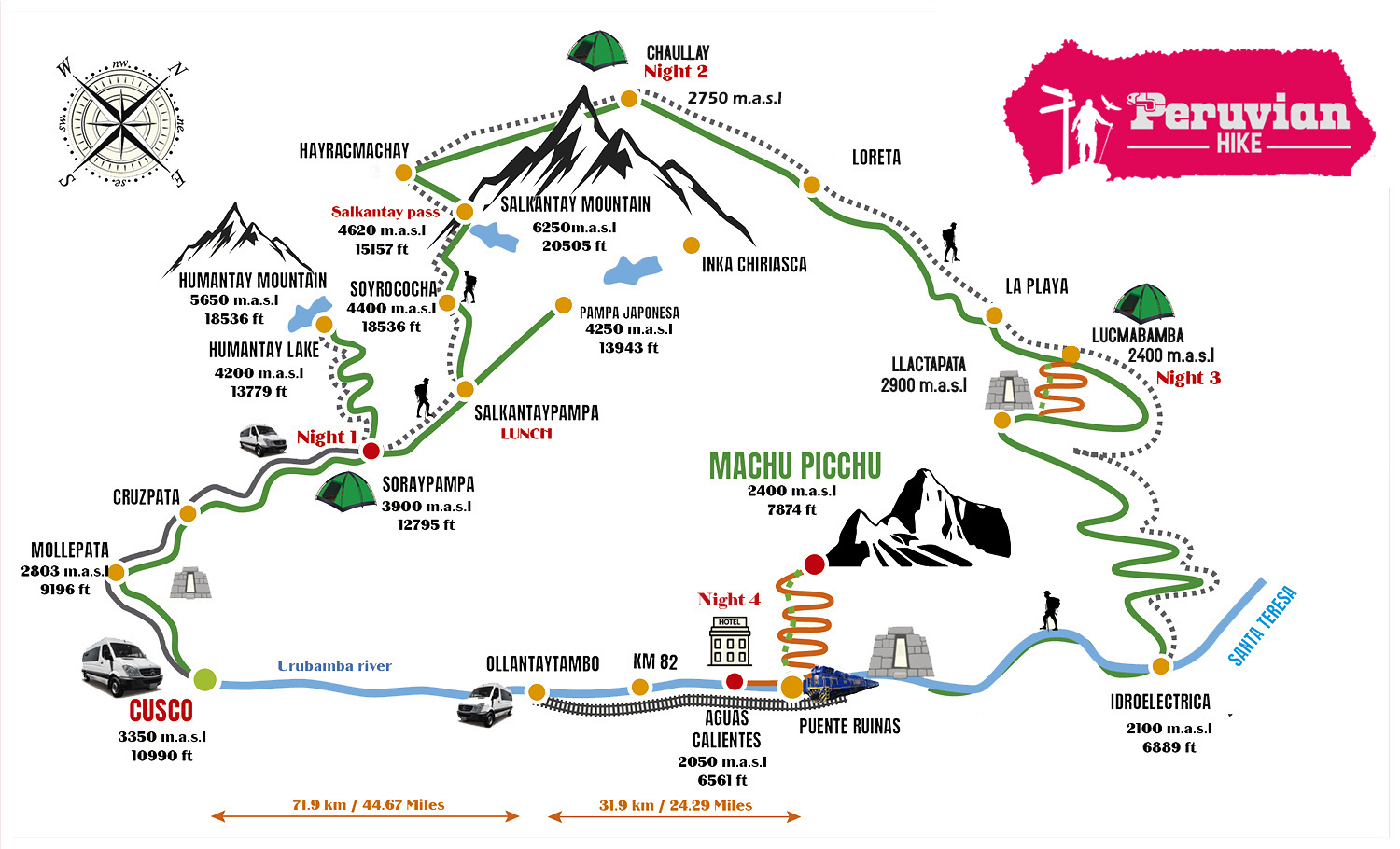 TREKKING MAP
The Salkantay Trek to Machu Picchu is an alternative to the Inca Trail and considered by most to be the best alternative route (and maybe even better!). This magnificent trail is perfect for adventurers who wish to become personally integrated in changing ecosystems from one day to the next. You will walk through sweeping, magical landscapes of a snowy mountain paradise to a tropical jungle where you will find a wide range of animals and medicinal plants and flower varieties. Witness with your own eyes a living, but ancient, culture in remote villages hardly ever seen by foreigners! The Cordillera Vilcabamba is an impressive mountain range extending over 260 km,. The snow-capped mountain Salkantay rises to 6271 MASL– 20574 FASL in height. It is an outstanding snowy peak, located less than fifty miles northwest of the city of Cusco in south-central Peru. Because of its proximity to the city, it is easily accessible by car and it has been climbed by professional mountaineers since 1952. In order to complete the Salcantay Trek, you need to have a reasonable level of fitness, but age shouldn't be a barrier. The most important thing is to be well-acclimatized to the altitude. The highest you will trek the entire time is (4, 650 MASL – 15092 FASL). Two days of acclimatization before the trek is ideal for visiting the city of Cusco, its nearby Inca ruins, and the Sacred Valley of the Incas.
WHY TAKE THE SALKANTAY TRAIL?
The Salkantay Trek is listed as one of the 25 best treks in the world by National Geographic Adventure Travel Magazine.
The Salkantay Trek is definitely one of the very best trekking adventures that you will find in Peru and in the continent of South America.
After the Inca Trail, the Salkantay Trek is the 2nd most popular trek to Machu Picchu (and a lot less crowded).
Hiking alongside the magnificent Apu Salkantay and arriving at the ruins of the majestic Machu Picchu is one of the best experiences known to mankind.
Trekkers can see natural bridges, snowcapped mountains, colorful valleys, waterfalls, wildlife, unique plants, and cloud forest.
Camping with less people allows you to control your own trip and have the best views of these incredible mountains!
---
IS IT FOR ME?
(5 days)
The Salkantay Trek to Machu Picchu is a great alternative for the Inca Trail trek and better suited for more adventurous trekkers who are able to handle higher altitude and longer distances. Ascending to reach the famous Apacheta Pass at 4650 MASL - 15088 FASL is not too strenuous since it is at the beginning of the trek, neither is it very steep, but it does require stamina and a little time in Cusco to acclimatize to the altitude before beginning the trek.
Thank you for choosing PERUVIAN HIKE E.I.R.L
We will do everything within our means to take care of you and ensure an enjoyable trip of a lifetime in Peru!.
Included
Sleeping bag
trekking stick
Extra oxygen
First Aid kit
One foamy sleeping pad per person
Pre-departure briefing: You will meet your guide and group in our office for an orientation trek. At this time, we will provide you with the duffle bags which will be carried by our horses. The meeting will be at 7:00 PM the evening before the trip begins. (or we can come to the hotel to give you the tour information)
Transport: You will be picked up from your hotel in the morning and will travel by private transportation to Challacancha, the starting point of the trek.
Experienced Guide: English speaking, professionally educated, and official tour guide. Your guide will explain the culture and surroundings along the entire route, including leading your group in ancient ceremonies! He or she will keep you safe, sound, and comfortable on your trek so that you can enjoy your time worry-free!
Personal accommodation in private campsites: Like our ancestors, we are very considerate of the Pachamama (Mother Earth). Therefore, our campsites and lodges are adapted to the environment to avoid generating negative impacts.
Camping equipment: Dining and kitchen tents, tables, chairs, and cooking equipment (all carried by the horses).
Entry ticket to Machu Picchu Archeological Site
Hotel in Aguas Calientes: The last night of this trek is spent in a hotel in Aguas Calientes with a double or triple room, private bathroom, hot shower, wifi, breakfast, and luggage storage while you visit Machu Picchu. This will either be Vista Machu Picchu or Eco Machu Picchu Pueblo, depending on availability at the time of travel.
1 Duffle Bag: You can put your personal luggage, up to 7 kgs (15.4 lbs), including your sleeping bag, in this bag to be carried by our horses.
Cargo Mules: On day 1, cargo mules carry the all camping equipment and your allowance of personal baggage (7 kgs/15.4 lbs). On day 2, your luggage will be carried by car or train to your destination.
Trekking Cook: A chef specialized in cooking on the trail, with an assistant, will prepare all of your delicious meals along the journey to replenish your energy. You will never go hungry!
Meals: 3 Breakfasts, 2 Lunches, 2 Dinners (Vegetarian, vegan, or special menus are available at no extra cost)
Wake up tea: Every morning at the campsite, you will woken up with a cup of coca tea! Our staff will bring the tea to your tent so that you will be warmed from inside out before you start your day.
Tea time daily: Every afternoon before dinner, the cooks will provide popcorn, biscuits, coffee, hot chocolate, teas, hot water, etc. After a long day of hiking, you will not have to wait until dinner to relax, warm up, and enjoy a bite to eat!
Snacks on the trail daily: Our snacks consist of local fruits, biscuits, chocolate, caramels, etc. We will give this snack to you at the beginning of each day in your cloth bag.
One cloth snack bag per person: To avoid the usage of plastic bags that contaminate our environment, we will give you a cloth bag for your snacks.
Products for hygiene: Each morning, you will be provided with a warm, wet towel to clean yourself up with.
1 Blanket or Liner per person
1 Pillow per person
Medical kit: Our crew will bring a first-aid kit, including emergency oxygen bottle
Train tickets: From Aguas Calientes to Ollantaytambo ("Expedition" service with Peru Rail at 18:20 PM)
Transport: Private transport from Ollantaytambo train station to your hotel in Cusco (Day 3)
24-hour guest service: We have telephone service available 24 hours/day for ease of communication and preparation with the agency leading up to your trek.
We will create a Memorable Lifetime Experience for you.
Not Included
The last Dinner, beverages are not included in the pax.
Tips and extra cash
Others not mentioned
Personal medicines
What you should pack for this tour
Original Passport
Walking boots
Waterproof jacket / rain poncho
Warm jacket
Hat and gloves
T-shirts
Comfortable trousers
Sun hat
Sun cream (factor 35 or higher)
Insect repellant
Toiletries and hand sanitiser
Personal medication
Camera and film with extra batteries
Torch with spare batteries
Daypack
2020 LAND COST
FROM
$350.00
PER PERSON
PRIVATE SERVICE
| PEOPLE | GROUP | PRICE | DURATION |
| --- | --- | --- | --- |
| 2 PERSON | PRIVATE SERVICE | $550 PER PERSON | 5 DAYS |
| 3-4 PERSON | PRIVATE SERVICE | $500 PER PERSON | 5 DAYS |
| 5-12 PERSON | PRIVATE SERVICE | $450 PER PERSON | 5 DAYS |
| PEOPLE | GROUP | PRICE | DURATION |
| --- | --- | --- | --- |
| 1-12 PERSON | GROUP SERVICE | $400 PER PERSON | 5 DAYS |
NOTE:
Our 5D/4N Salkantay Trek includes extra horse to carry up to 7kg/16lbs of your belongings.


We are the only Salkantay Trek to Machu Picchu that works exclusively with specialists and experts.
The Salkantay Trek is our passion and customer satisfaction our success!"